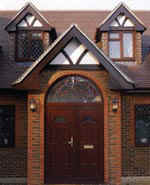 Residential Doors
When people visit your home, first impressions are often based on the appearance of your property and the focus of attention is usually on the door which welcomes them. Choose one of our PVCu residential doors and create a warm welcome to all your visitors.
Apart from looking good you obviously want the guarantee that your door will withstand the knocks of the family life year-in, year-out - without ever looking the worse for wear. Our range PVCu residential doors not only look good but they are designed with security in mind incorporating the best security features including multi-point locking mechanisms.
Our sales representatives will be pleased to present to you in the comfort of your home - the choice of door furniture, material finishes, glazing and insulated feature panel options; and in addition demonstrate the features and benefits of our high security locking mechanisms.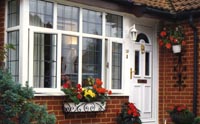 Choosing the door which best suits your lifestyle and character of your home will not be a problem. For example, if you want light to flood in and brighten the hallway we can offer you a range of glazed options or if you want privacy from the outside world choose from our range of solid options. Which ever option you choose for your home we can offer you an extensive range of insulated feature and side panels with glazing options designed to accommodate every type of installation.
Make a focal point of your room by choosing one of our high quality patio doors. Our range of patio doors are available in two, three or four pane options with a choice of in-line or tilt-and-slide openings to fit any size or shape of room.
In-line doors are designed for rooms where frequent opening and closing is necessary. Tilt-and-slide doors can be tilted for added ventilation and restricted access or opened in an in-line position.
Alternatively our elegantly styled French doors may best suit the style of your home. As with patio door options, French doors will transform the appearance of your room and with the addition of glazed and solid side panels you can create a design to suit your lifestyle.
Our PVCu patio and French door products are made from multi-chambered profiles in brilliant white, woodgrain and golden oak finishes. As always security and safety have been given the highest priority - all our patio and French doors are available with high security locks and toughened or laminated glass is fitted as standard.